Your next meeting is just a click away
One of the reasons coworking spaces are becoming so popular is because of their affordable and professional space for meetings. In fact, meetings are the second most frequent activity carried out in a coworking space according to the Deskmag Global Coworking Survey 2018. This inevitably means that booking meeting rooms is also a regular activity.

A growing number of entrepreneurs, freelancers and remote workers are recognising the advantages of coworking, and being part of a community. However, many still choose to work from home or in a coffee shop. But when it comes to meetings, more often than not, they need to find another location. Having a meeting at home is unprofessional, and coffee shops are noisy and informal.
So what does this mean for you as a coworking owner? It means that meeting rooms are a very important feature in your space, because not only will members use your space for meetings, but so might non-members who need a professional space for a day. It also means that you can be that space that they associate with for gaining a new client/deal, or that space that wows them with the design, service or community. Take this opportunity to offer trials, guest passes, resource discounts and event passes to individuals entering your space so that they can recognise the advantages of coworking with your community.
Since booking meeting rooms is one of the most common and important processes in a coworking space, it is one of the main features available on Nexudus. To make this process more accessible and easier for your community, along with the website, members can also check availability in real time and book meeting space via Passport by Nexudus app and Nexboard by Nexudus app.
Members' Portal and Passport by Nexudus
On the Bookings section of your members' portal, members/non-members can book any of the meeting rooms in your space. Bookings can also be made via Passport by Nexudus, the companion mobile app to the Nexudus account, available on iOS and Android.
Categories: If you have more than one room, you can choose to categorise them into different resource types, e.g. small meeting rooms, large meeting rooms and hot desk. You can also include a description of the room and your space. This has been designed to speed up the process of finding the ideal available room for team meetings and quiet time.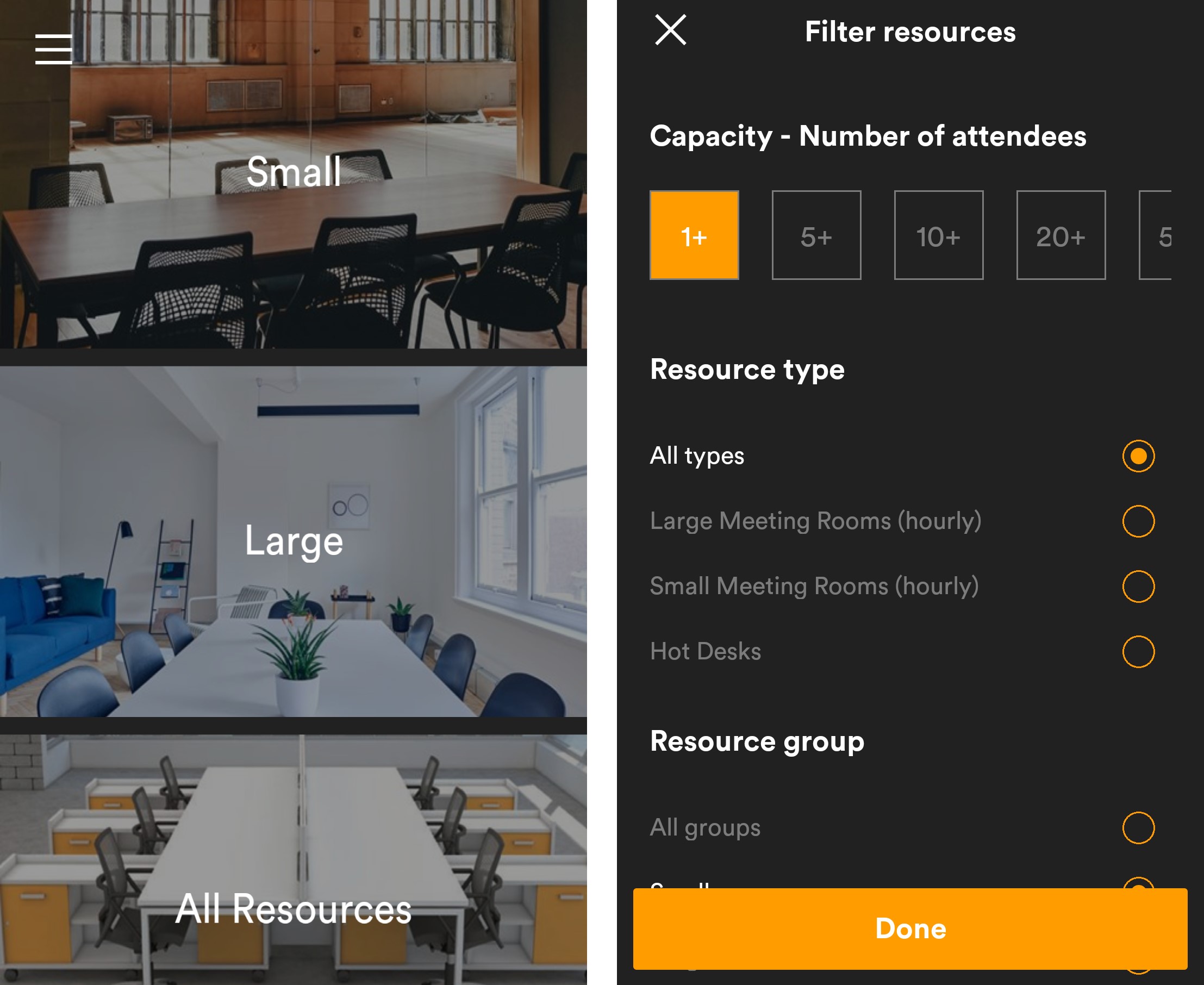 Filter: On Passport by Nexudus, there are filter options in order to search based on the capacity of the room and desired amenities.
Booking a room: Once the type of room has been chosen, users can simply enter the date, time and duration for which they would like to make the booking.The website and app will then display the available rooms at that given time slot. Individuals can then go ahead and book the room if it is available, or look for an alternative.
Products: Products needed for the meeting, such as tea, parking and audio equipment, can be added to the booking for free, or at an extra cost.
Visitors: Guests (non-members) attending the meeting can be added to the booking. Names and email addresses can be provided in order to notify these guests about the booking, and to notify your space about their attendance. If, for example, you use our NexIO app for check-in, then these guests can be provided with the 5 digit pin-code to make their check-in process faster!
Additionally, if the smartphone, is waved in front of the NexBoard app, while Passport by Nexudus is open, it will prompt users to book that default room shown on that tablet.
Speaking of Nexboard...
Nexboard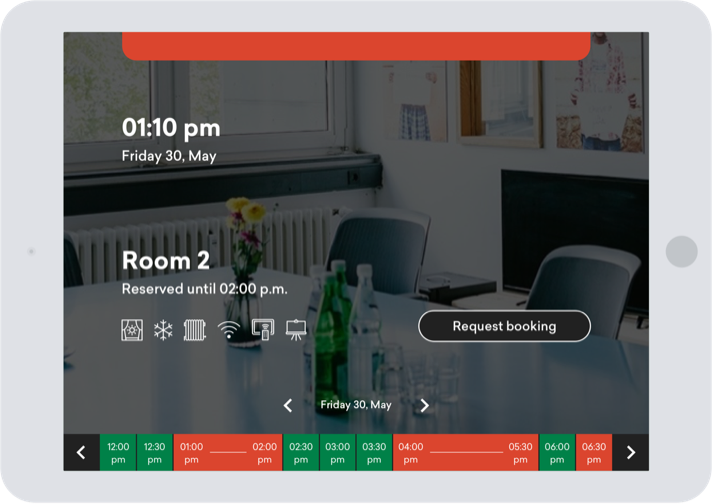 Nexboard is a companion app for your Nexudus account, which is available on iOS and Android. The idea is that you can install tablets in your space, for example, on the doors or walls outside a meeting room in order to make booking meeting rooms more accessible. As an administrator, you will be able to select the room which you would like to be displayed as the default. This will allow members/non-members to:
Check the room availability in real time, and it's future availability

Get instant notifications about upcoming bookings for the room – the message "Next booking in X minutes" will appear on the screen.

Make their own bookings for a selected time slot, using their Nexudus credentials.
Cost
NexBoard and Passport by Nexudus are both part of your Nexudus subscription and do not incur you or your members any extra cost!
We understand the importance of professional meeting space, and have tried to make the booking process as simple and accessible as possible for your members/non-members. We will continue to add new options and features, as we adapt to the needs of an evolving industry, in order to make the process even easier! For more information about bookings please contact us, or check out our knowledge base.
…
If you don't already use Nexudus and want to learn more about our nifty coworking software, simply request a live demo with one of our friendly onboarding specialists! Or if you have any questions, please don't hesitate to contact us. We are always happy to help!
Our close relationship with customers helps us to understand their needs and receive valuable feedback. This growing understanding of coworking needs, combined with our innovative approach means that we can keep this coworking SaaS up-to-date with new features and improve the user experience.
Related posts
We have just launched NexClicker, a digital tally counter that allows you to count in and out everything entering your workspace. Limit the number of people within your workspace, click them in, and click them out! Social Distancing in a coworking might mean you need to limit your capacity. NexClicker gives you an easy way to count in and out everyone who accesses your flexible workspace.