Coworking Europe Conference 2015 is coming!
The Coworking Europe Conference is just around the corner. On 11th, 12th and 13th November, Milan will take centre stage of the coworking scene, when an expected 350+ space managers and coworking enthusiasts from Europe, United States, Canada and many other countries will take to the Italian metropolis. This is the sixth occasion that the event has taken place and it has become one of the main benchmarks for keeping up to date with the movement's evolution, trends and new models. It is also the perfect opportunity for networking with other space managers.
Global Enterprise, Proteina and the Comune di Milano have partnered up this time to create the most insightful event in Europe regarding the rise of coworking and its impact on entrepreneurship, innovation and the future of the workplace.
The event will be structured in the same way as other years. The first day will consist of panels with guest speakers. The panel topics range greatly, and include: New coliving models, digital nomads, the future of coworking, coworking in Africa, and coworking and corporations, to name just a few. The second day will be organised around the unconference format, in which conference participants can suggest topics for debate. Groups will then be formed and the topics are discussed around different tables. This day is a good opportunity for putting forward topics that you believe could be of interest to share and compare with the rest of the community participating in this event, so don't be shy! The last day will include 2-hour workshops given by experts. The workshop themes are community building, designing your space and how to work with sponsors.
These events are great for getting to know other people involved in coworking and obtaining information about everything that's going on at the moment. It will definitely be interesting to find out the latest results from the Coworking Survey 2015 by Carsten Foertsch from Deskmag.
Although you may still come across people who answer you with "CO-what?" when you talk to them about coworking, the movement has matured a lot in recent years. More and more people are becoming used to the term and are showing interest in the concept. As part of the sharing economy boom, coworking is a response to a new way of working that pays special attention to building community and the interactions that are produced in these spaces. Coworking isn't just about sharing an office or workspace; it's about belonging to a coworking space and feeling like part of a group in an environment where everybody is willing to collaborate.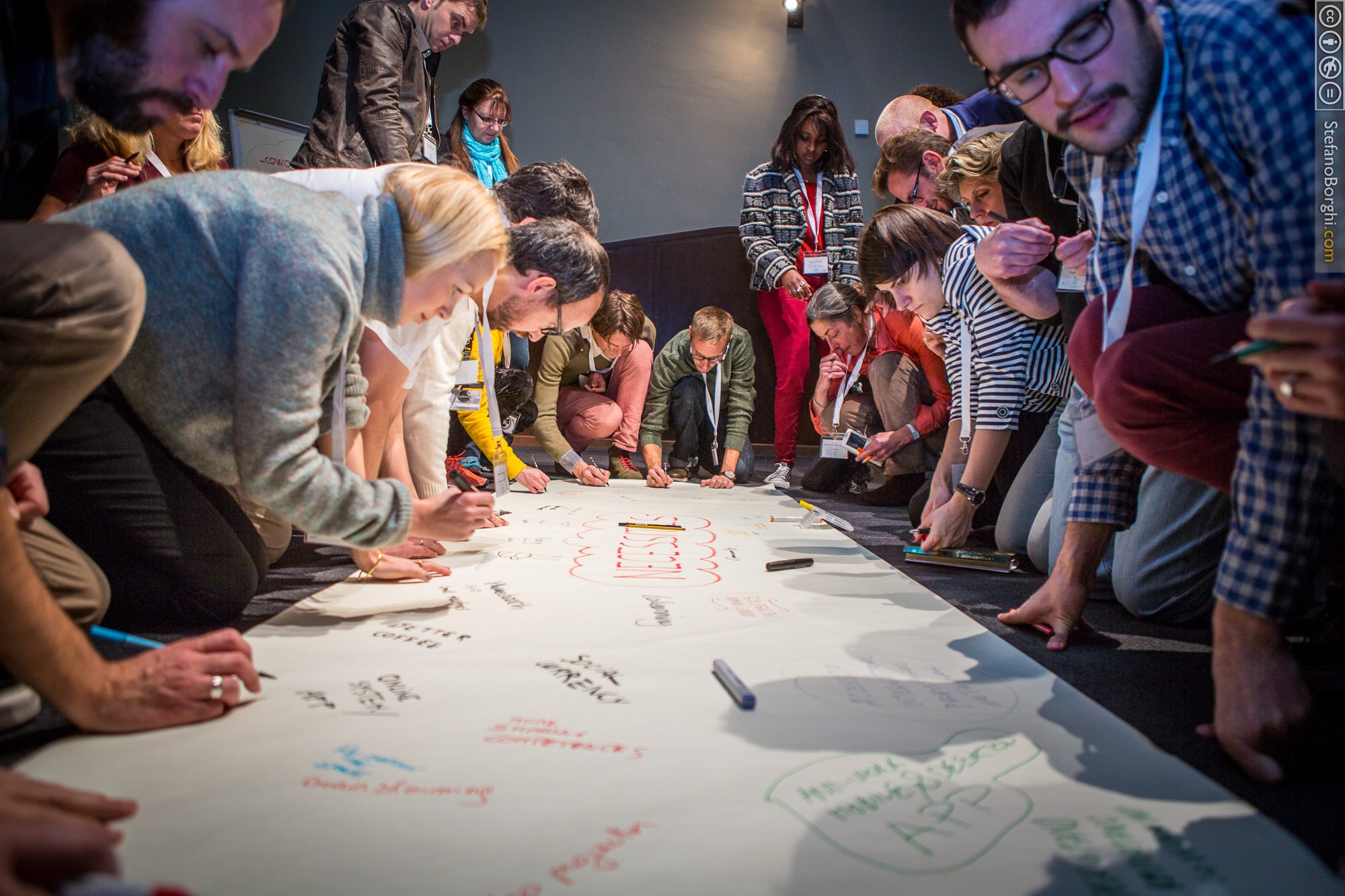 Coworking Europe 2014 Lisbon. Photo source: Stefano Borghi
Specialization is another trend seen in the coworking ecosystem, where we can find spaces especially for chefs, female entrepreneurs, makers, startups, writers, etc. These spaces create their community based on very specific profiles that feed off one another by collaborating in different projects together.
What's more, the movement is also experiencing a growth in space networks. WeWork has been a hot topic in the past year given the investment it received. Other networks, such as Nextspace, HeraHub, Deskhub, Grind or CoCo have spaces throughout the USA. The number of member spaces in the Impact Hub network also continues to grow, which is centred on social impact initiatives.
If you're thinking about attending the conference, you can find some tips to make the most of the event in this post on our blog. Don't forget to sign up for the tours that the CoPass team usually organise, as they're a great chance to find out more about the local coworking ecosystem. And if you still haven't made your mind up about accommodation, take a peek at the CoPass Camp. :)
You can get more information and book your ticket on the Coworking Europe official website.
Related posts
​Wired Sussex is a not-for-profit membership organisation based in Brighton. It provides support to businesses operating in the digital, tech and the media sectors through networking events, meetups, industry speakers, job postings and FuseBox. Chris admits that when he first started exploring the Nexudus platform, "he kept finding features for things I didn't even know we needed as a coworking space, such as signing residents and guests in. It was my first time working in an innovation space and Nexudus essentially taught me everything I needed to know about managing a space!"